Your Leading Source for Wood Look Tile in Folsom, CA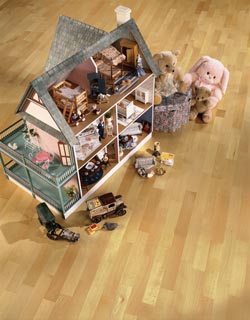 Natural hardwood is one of the most coveted and celebrated options for home flooring. Unfortunately, its style and value aren't always suited to every room. In kitchens, bathrooms, basements, and other areas prone to high levels of moisture, it is impossible to install real wood without eventual warping and other kinds of damage. At Gold River Flooring Gallery, we want to eliminate the limitations on your design freedom imposed by moisture or maintenance demands.
Our wood look tile in Folsom, CA, is the next evolution in home flooring for customers who want this classic aesthetic with contemporary ease. Offering benefits that range from better heating and cooling to relatively low upkeep requirements, it allows you to take advantage of today's manufacturing methods to create cohesive home designs that aren't hemmed in by the borders of high-traffic or spill-prone areas.
Giving You More Options
As part of a nationwide network of flooring providers with unparalleled buying power, we deliver an inventory that combines massive selection with careful curation to ensure that you have access to all of the best ceramic and porcelain wood tile products currently on the market. When it comes to getting an authentic wood look, that diversity makes a difference — we offer more styles, more colors, and the confidence of expert advice.
One area where our knowledge can greatly improve the results of your project is in the selection of either porcelain or ceramic for your project. Though they often look similar on the surface, each comes with unique benefits that make it ideal for certain situations.
Pristine Porcelain — The unmatched tile champion when it comes to durability, this option is perfect for areas where performance under pressure is key. Our wood plank porcelain tile is water-resistant, tough, and ready for installation in your most challenging spaces.
Versatile Ceramic — Easy to cut, this tile variant can floor unique rooms with ease. It also comes at an approachable price point, empowering you to take on larger renovations without breaking the bank, and without giving up on the look you love.
Get It All Under One Roof
We pride ourselves on comprehensive service. Whether you're set on wood tile or interested in exploring some of our other premium floor coverings, you can count on our team to guide your shopping experience to a successful purchase. Achieve your design vision with porcelain or ceramic wood tile from our inventory today, and look forward to a lot of comfortable, beautiful tomorrows.

Contact us today to get advice and insight regarding your flooring project. We proudly serve Folsom, Lincoln, Loomis, Roseville, and Granite Bay, CA, as well as the surrounding areas.