Luxury Vinyl Flooring in Folsom, CA
Luxury Vinyl Flooring to Fit Your Lifestyle
If you're looking for a durable new floor for your home that's also stunning and beautifully mimics the look of real hardwood or stone, then search no further! Our incredible collection of wood-look and stone-look luxury vinyl at Gold River Flooring America has the perfect fit for your flooring needs.
Luxury vinyl floors are not only long-lasting but are a popular choice for homeowners with an active lifestyle as their stain-resistant and water-resistant features make them perfect for any area within the home. Our flooring experts proudly serve Folsom, CA, and the Greater Sacramento area, including El Dorado County, Nevada County, Sacramento County, Yolo County, and Placer County.
As industry leaders, we can supply you with high-quality products from name brands, like Downs H2O and Galvanite.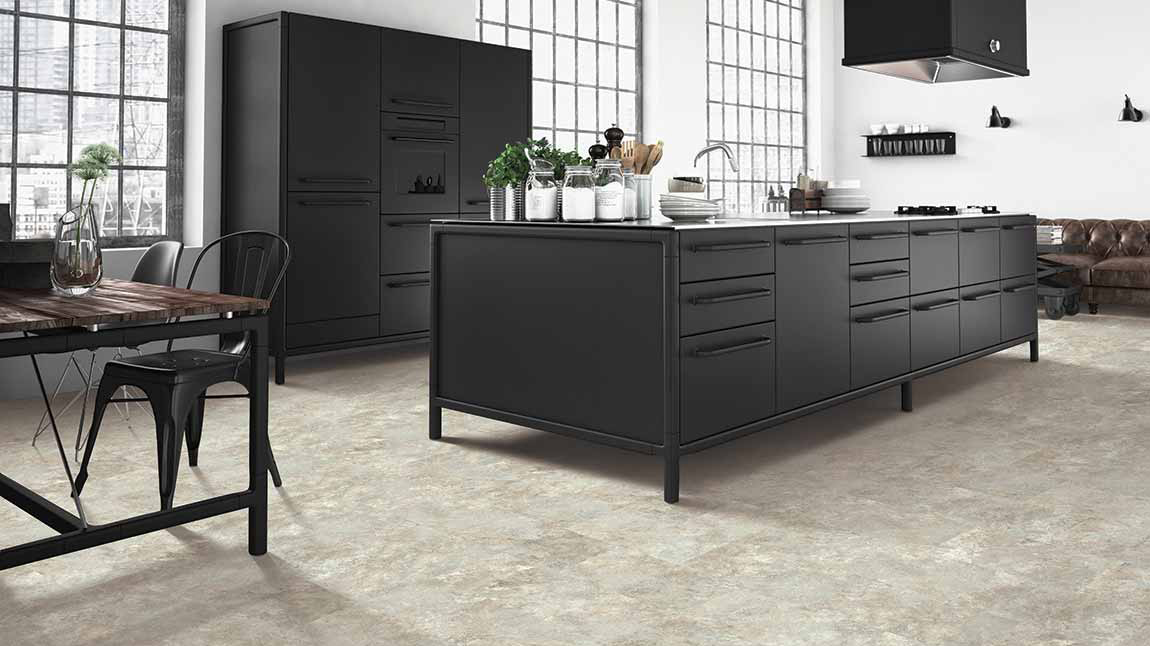 Types of Vinyl Floors
Vinyl flooring has come a long way since its inception, and with the latest developments in technology, it's easier to install and keep up with than ever. While all vinyl flooring comprises the same four layers of plastic, traditional vinyl or sheet vinyl is less strong than luxury vinyl floors. Luxury vinyl flooring has a more substantial top layer and comes in either planks or tiles. These planks or tiles are designed to simulate the look and feel of real wood planks and stone tiles.
For many years sheet vinyl was regarded as the best option for moisture-prone and high traffic areas of the house; however, now luxury vinyl flooring has taken up its place on the market as a more stable and durable alternative.
The Ease of Luxury Vinyl Flooring Maintenance
The good news is that luxury vinyl flooring is a cinch to maintain. Only needing to be frequently vacuumed, damp-mopped, and swept, your brand new luxury vinyl floors will stay fresh for years down the line. The advantages to having luxury vinyl floors are plenty as they're strong enough to withstand heavy foot traffic, spills from your little ones, and pet messes.
Vinyl does tend to scratch easily, so before using any hard-bristled brooms or chemical cleaning agents, be sure to consult your luxury vinyl flooring warranty. Keeping those brand new floors scratch-free and beautiful is a priority for us just as much as it is for you, and our flooring specialists will guide you through the top industry products to find the perfect match for your home design needs.
Where Can I Install Luxury Vinyl Flooring?
Perhaps the best part of luxury vinyl flooring is that it can be installed anywhere in the home —even below grade. All of our luxury vinyl flooring products are 100% waterproof, meaning that you can install them in your bathrooms, basements, and kitchens.
Thanks to recent improvements in flooring design, all of our luxury vinyl floors here at Gold River Flooring America can be installed over any subfloor, saving you the hassle of an extra step.
Our Installation Specialists
Our team of flooring experts isn't just with you throughout the selection process but is there until the floors are installed, and you are satisfied with your new look. We have expert installers so that you don't have to worry about an amateur making mistakes with your new floors. Our specialists come prepared with the best equipment and industry-grade resources. With a simple click and lock system, our flooring experts will have your new floors installed in no time so you can start living on them immediately.
We'll handle every aspect, ensuring your luxury vinyl surface is installed with the utmost care and attention to detail. Moreover, with our Ultimate Confidence Guarantee, if you discover any installation-related issues with your flooring, we'll correct them at no cost to you.
Contact us today to begin your journey to find the perfect floor for your active household and start living on your brand new luxury vinyl floors.