Hardwood Flooring in Folsom, CA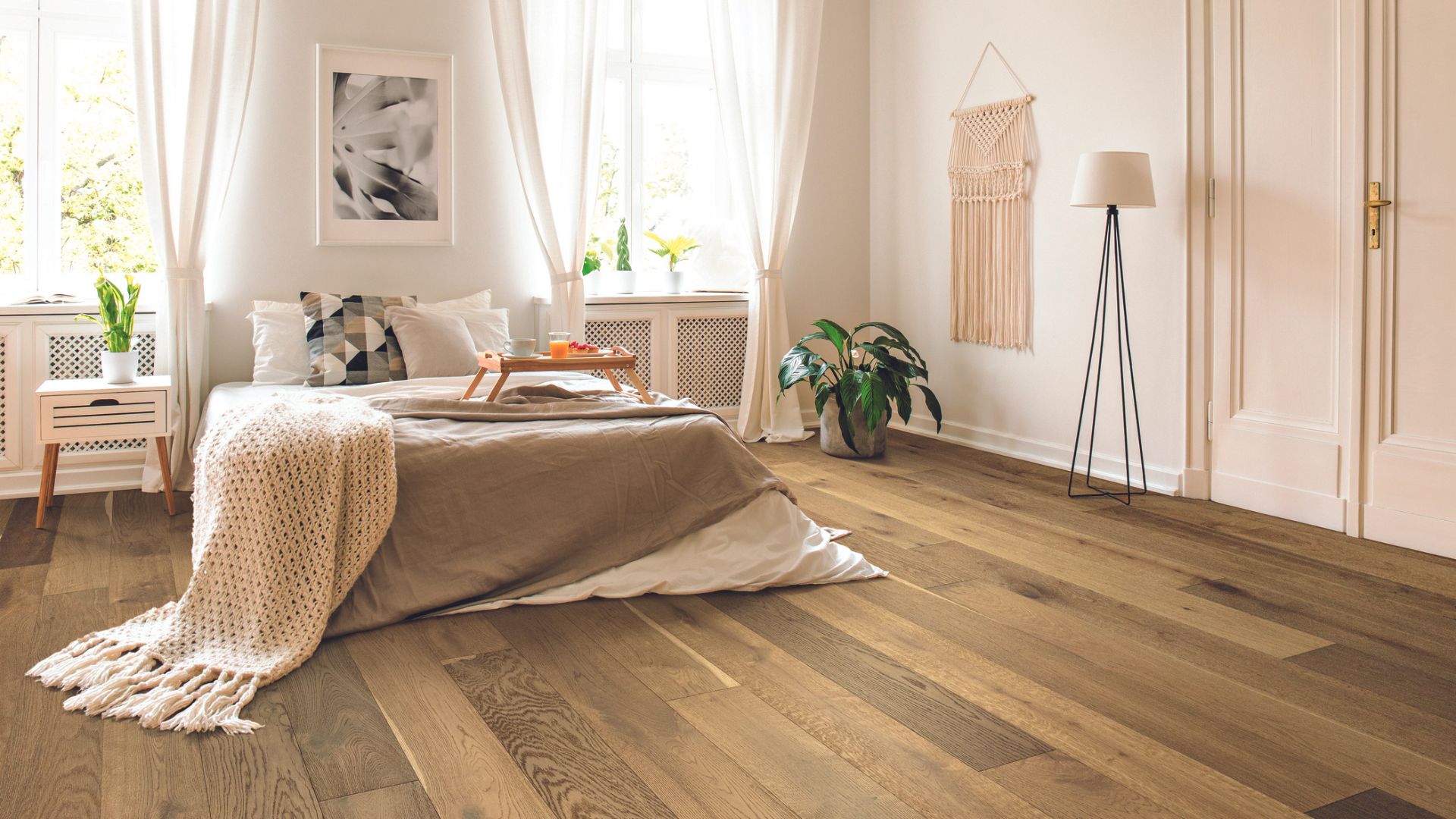 Enhance the ambiance of your Folsom, CA, residence with the exquisite selection of hardwood flooring at Gold River Flooring America. Our showroom boasts an impressive range of hardwood floors in Folsom, CA, designed to elevate your home's elegance. From classic to contemporary, our diverse styles cater to every design aesthetic, ensuring that your flooring perfectly complements your vision.
In addition to its timeless beauty, hardwood flooring is celebrated for its exceptional durability, guaranteeing a lifetime of resilience against everyday wear and tear. When you step into Gold River Flooring America, you embark on a journey to discover the hardwood flooring that aligns with your interior aspirations.
Our seasoned experts at Gold River Flooring America are committed to guiding you in making the ideal flooring selection. We understand that choosing the perfect floor can be overwhelming. Still, with our knowledgeable associates by your side, you can confidently make a decision that enhances the aesthetics and value of your Folsom, CA, home. Transform your space with the enduring allure of hardwood floors—visit Gold River Flooring America today.
Why Choose Hardwood Flooring?
Hardwood stands out for its myriad benefits, seamlessly blending style, longevity, and minimal upkeep when it comes to flooring choices for your Folsom home. Here's a closer look at why hardwood floors are the perfect choice:
Timeless Elegance: Hardwood flooring radiates classic and timeless charm, infusing your living spaces with an inviting, enduring atmosphere that never goes out of vogue.
Long-Lasting Durability: Renowned for their exceptional durability, hardwood floors, when properly maintained, can grace your home for generations. It's an investment that pays off in both beauty and resilience.
Diverse Styles: Hardwood comes in various styles, colors, and finishes, ensuring a perfect match for any home aesthetic. Whether you prefer a rustic, traditional, or contemporary look, hardwood has you covered.
Effortless Maintenance: Maintaining hardwood floors is a breeze. Regular sweeping and occasional mopping is all it takes to keep them looking their best, saving you time and effort in the long run.
Improved Indoor Air Quality: Unlike carpets, hardwood floors don't trap allergens and dust, making them an excellent choice for allergy sufferers. Enjoy cleaner, healthier air in your home.
Enhanced Property Value: Installing hardwood flooring can significantly elevate your home's value. Its timeless appeal and impressive durability make it a valuable investment that pays off when it's time to sell.
Versatility: Hardwood seamlessly transitions from living areas to bedrooms and even kitchens, creating a cohesive look throughout your home. It's a versatile flooring choice that suits various spaces.
Ageless Appeal: As hardwood floors age, they develop a unique patina that adds character and enhances beauty. Over time, they become even more charming and distinctive, making them a lasting asset to your home.
Types of Hardwood Flooring
At Gold River Flooring America in Folsom, we pride ourselves on offering an exceptional array of hardwood flooring options:
Solid Hardwood: Revel in the timeless allure of solid hardwood flooring. Crafted from a single piece of genuine hardwood, each plank radiates natural authenticity. With its robust construction, solid hardwood stands the test of time. Choose from satin, matte, or gloss finishes to match your style. It's ideal for bedrooms, living rooms, dining rooms, and hallways, provided proper care is maintained.
Engineered Hardwood: Engineered hardwood boasts multiple layers of wood with a premium hardwood veneer. This unique design ensures heightened durability and resistance to moisture and humidity compared to solid hardwood. If you're considering installations in damp areas, such as kitchens, bathrooms, or basements, engineered hardwood is an excellent choice that marries style and practicality.
Choosing the Perfect Hardwood for Your Home
Selecting hardwood floors for your home requires careful consideration of a few key factors:
Type of Wood: Different wood types have distinct properties in terms of hardness, color, and grain pattern. Choose a wood species suited to your area's climate and the expected foot traffic.
Home Style: Whether your style is classic or modern, there's a hardwood species and finish to match. Consider your existing furniture and décor when making your choice.
Budget: Hardwood flooring spans a range of prices, so it's wise to set a budget before you begin shopping to ensure you stay within your means.
Lifestyle Compatibility: For homes with kids, pets, or high traffic, opt for hardwood that can withstand the demands of your daily life. Some woods are more resistant to scratches and dents, making them perfect for active households.
Professional Hardwood Flooring Installation
After you've chosen the perfect hardwood for your place, count on our team of expert installers to help with the final installation. You won't risk investing in an inexperienced installer's mistakes when installing your new hardwood floors. Our team of professionals can provide a smooth installation. Thanks to their brand awareness and product experience, they'll come prepared with the right tools and expertise to ensure a quick and effective installation.
If, for any reason, you are dissatisfied with your floors within 30 days of installation, we will replace your floors with a product of similar pricing for free. This is our Ultimate Confidence Guarantee, a promise to you that the best warranties back your floors, and we will ensure your satisfaction.


Contact us today to schedule your free measure with our floor expert concerning your hardwood flooring purchase. We sell and install residential and commercial flooring to customers throughout Folsom, Lincoln, Loomis, Roseville, and Granite, CA, as well as the surrounding areas.