Carpet Store in Folsom, CA
Experience the comfort and warmth of cozy carpets that turn your house into a home. At Gold River Flooring America, you'll discover an impressive range of carpet options that enhance the aesthetics and charm of any living space. Our highly trained associates are dedicated to bringing your flooring visions to life. With our extensive selection, knowledgeable staff, and unbeatable warranties, you can confidently choose us for your new carpet.
Step into our showroom and explore a world of textures and colors catering to modern and timeless aesthetics. We're committed to helping you achieve your interior design dreams by providing a carpet that transforms your house into a personalized sanctuary. Whether you're seeking the economical durability of Berber carpet or the luxurious appeal of frieze carpet, we have the perfect match for your taste and performance needs.
We understand the demands of your busy schedule and active household, so we prioritize creating a beautiful and comforting home for you to retreat to at the end of each day. Our stain-resistant carpets are an excellent choice when seeking a flooring option that offers both resilience and a soothing atmosphere. The soft texture of the carpet also makes it an ideal option for households with kids and pets, providing a cozy home for all.
Visit our showroom in Folsom, CA, and let us help you discover the perfect carpet that will fit your space perfectly.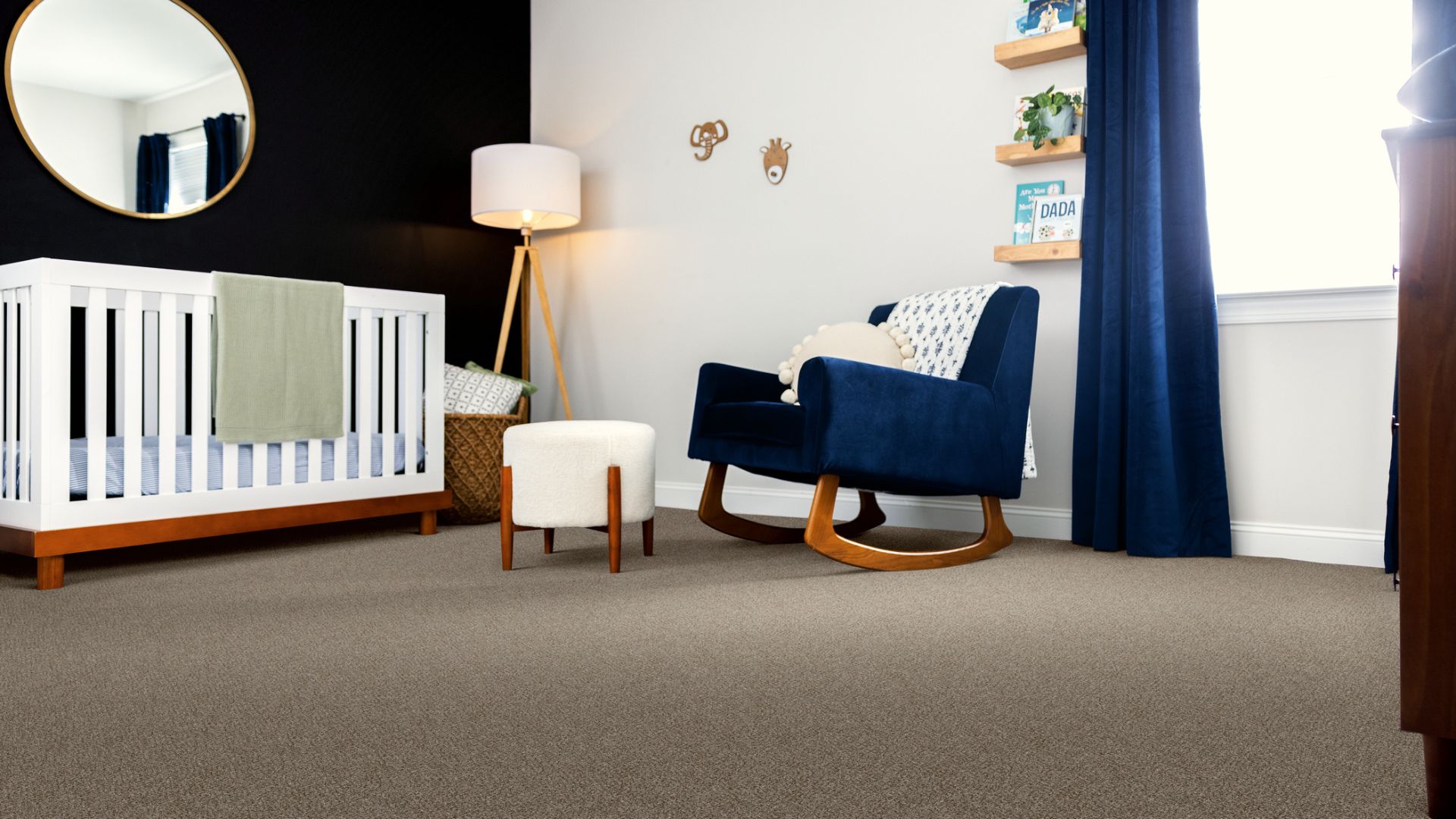 Popular Types of Carpet
At Gold River Flooring America, we take pride in offering a diverse selection of carpets to cater to every taste and lifestyle. Here are some of the exceptional carpet types available for you to choose from:
Berber Carpet: Known for their versatility, Berber carpets provide a soft and cushioned feel underfoot. Available in multi-level or level-loop piles, they possess natural strength and durability, making them an excellent choice for high-traffic areas in your home.

Frieze Carpet: Renowned for its silky and smooth texture, Frieze carpets offer a plush feel and exceptional resistance against stains and dirt. With their knotted appearance, they add depth and dimension to any room, creating a cozy and inviting atmosphere.

Loop and Cut-Loop Carpet: These carpets provide a casual and homely look while effectively concealing imprints. Loop carpets feature uncut looped fibers woven or tufted into the surface, while cut-loop carpets consist of snag-free straight, cut fibers. This makes them an ideal option for households with pets and children.

Patterned Carpet: Perfect for those seeking to make a bold statement, patterned carpets add an artistic and visually striking touch to any room. Using a process similar to paper printing or rotary screen printing, these carpets offer a wide range of captivating designs.

Saxony Carpet: If you desire luxury and elegance, Saxony carpets are an ideal choice. As cut-pile carpets, they are resistant to shading, wear, and traffic marks, ensuring durability and long-lasting beauty for your space.
What Are The Benefits of Carpet?
Carpet offers many benefits, making it a popular choice for many homeowners. Here are some key advantages of choosing carpet for your flooring needs:
Carpet provides a soft and cushioned surface underfoot, creating a cozy and comfortable environment in your home. It offers warmth, especially during colder seasons, making it ideal for bedrooms, living rooms, and other areas where you want a welcoming atmosphere.

Carpets act as a natural sound absorber, reducing noise levels in your home. It helps minimize echoes, footsteps, and other sounds, making it particularly advantageous for multi-story houses, apartments, or homes with active children or pets.

Carpet provides an added layer of safety, especially on stairs, reducing the risk of slips and falls. The texture and grip of carpet fibers can offer stability and peace of mind, particularly for families with young kids and elderly individuals.

With various colors, patterns, and textures available, carpet allows you to unleash your creativity and personalize your space. It can complement any interior design style, from classic to contemporary, and create a cohesive look throughout your home.

Carpet fibers trap dust, allergens, and other particles, preventing them from circulating in the air. Regular vacuuming and proper maintenance can help improve indoor air quality, making carpets suitable for individuals with allergies or respiratory sensitivities.

Carpet acts as an insulator, providing an additional thermal insulation layer to your home. It helps retain heat during colder months, reducing energy consumption and contributing to cost savings on heating bills.
How Do I Choose The Right Type of Carpet For My Home?
Choosing the right type of carpet for your home requires careful consideration of your specific needs and preferences. Here are key factors to keep in mind:
Evaluate the amount of foot traffic your home experiences. If you have a busy household with kids and pets, opt for a durable carpet that can withstand heavy use and maintain its appearance over time.

Set a budget for your carpet purchase. Rest assured, our local flooring store offers a wide range of carpet options to fit every budget, ensuring you find the perfect blend of quality and affordability.

Consider the desired style and functionality of your carpet. Do you prefer a plush and cozy feel or a low-maintenance option? Explore various styles, such as Berber, Saxony, frieze, and more, to find the one that aligns with your aesthetic and practical preferences.

The color of your carpet can significantly impact your space's overall look and ambiance. Consider your existing decor and choose a color that harmoniously complements it. Consider lighting, room size, and personal preferences to select a color that enhances the desired atmosphere.
Professional Carpet Installation
For your carpet installation project, please trust our skilled installation team. After spending money on new flooring, you don't want to take chances with poor work, resulting in unfit seams and flaws in your carpet. Our experts have the product expertise needed to complete a successful installation so you can enjoy your new carpeted floors immediately. In the unlikely mistake that an error in craft should occur, we will replace your floors for free with a product of similar cost. This is our Ultimate Confidence Guarantee to ensure you are completely satisfied with your floors upon final installation.
Contact us today to learn about our wide selection of carpet flooring. We proudly serve customers throughout Folsom, Lincoln, Loomis, Roseville, and Granite Bay, CA.